Milk Recording Supervisor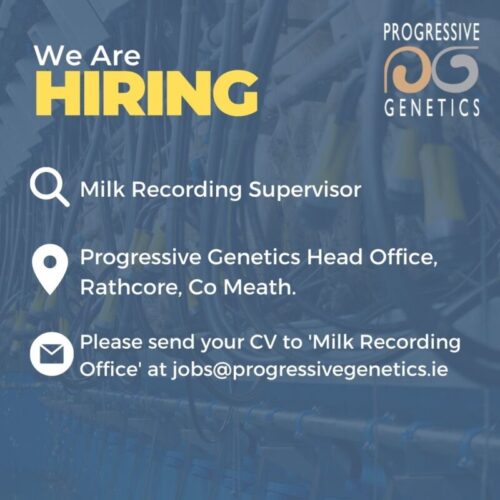 Milk Recording Supervisor
Progressive Genetics is a market leader in cattle breeding and milk recording in Ireland. We deliver our services to the farmer community across 20 counties and are committed to adding value to our farmers enterprises. Due to significant growth in our Milk Recording division we are now looking to add to our team with the addition of a Milk Recording Supervisor.
This is an excellent opportunity for the right person in an organisation and industry which is experiencing rapid growth and looking forward to a bright future. The position is based at the Progressive Genetics Head Office at Rathcore, Enfield, Co Meath.
The successful candidate will be responsible for the following:
Managing and growing our customer base in South Leinster/East Munster
Supervising the delivery of the milk recording service to our customers
Provide technical support and back-up to our customers
Supervising the network of milk recording personnel at farm level
Ensure that strict quality control protocols are observed throughout all levels of the service
Liaise with industry partners and the Dairy processors to maximise the service for our customers
Work with the wider team in Progressive to maximise the promotion and delivery of the milk recording service
Applicants for this position should have:
B.Agr.Sc degree or equivalent qualification
A working knowledge of farming practices
Be familiar with milk constituents such as SCC, Fat, Protein etc.
Ability to work under pressure, strong organisational skills and have good people management skills
Agricultural background
Have 2/3 years' experience in a similar role: advisory/sales/customer service
Replies to:
The Secretary, Progressive Genetics, Rathcore, Enfield, Co Meath A83KP98
Tel 046-9541230
Email: jobs@progressivegenetics.ie
Progressive Genetics is 100% Irish Farmer Owned. Progressive Genetics is an equal opportunities employer.