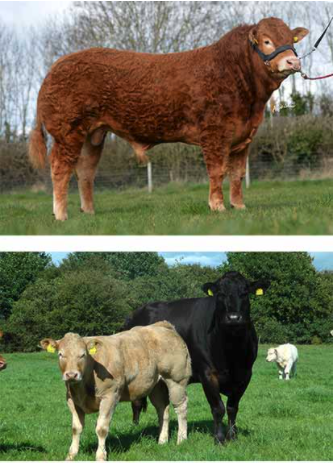 Progressive Genetics is a Meath based, farmer owned Co-operative with a workforce of over 300, in fact with 3,400 Irish farmer shareholders, it's the largest farmer owned cattle breeding co-op in the Republic of Ireland.
Progressive Genetics was founded in 1995 with the acquisition of the Dublin District Milk Board, who had been involved in providing cattle breeding services since the early 1950`s.
Our simple mission statement is:
"Adding measurable value to the National herd, through the identification and distribution of optimal Dairy and Beef genetics to its farmer customers".
We are involved in a range of Farmer related businesses and services, and have a shareholding in a number of Agri-related businesses such as the National Cattle Breeding Centre (NCBC), Irish Farm Computers (Agri-Net), the Irish Cattle Breeding Federation, and Independent Milk Laboratories.
NCBC operates the National Beef and Dairy testing programme for Ireland. We Progressive Genetics have a 50% stake in NCBC, with Munster AI holding the other 50% stake.
Both Progressive Genetics and NCBC are forward thinking companies who are keenly committed to using technology, research and best practice to bring the best value and add value to the products and services we provide to our farmer customers.
We at Progressive offer a wide-range of services to our shareholders and farming customers from:
Dairy and Beef DIY semen sales *
An AI technician service *
Milk recording – both DIY and manual *
Disease testing through milk samples (with iML)
Heat detection with Moocall HEAT and other products
Farm computing software through its subsidiary Irish Farm Computers (AgriNet)
* At Progressive Genetics we are an ISO 9001 accredited company through EQA (Ireland) Limited for our Semen sales, AI technician service and our Milk recording service implementing quality control procedures over all day-to-day operations.
With our range of products and continuing development Progressive Genetics is well placed to give our farmer customers a competitive advantage and a more profitable future.
The National Cattle Breeding Centre
The National Cattle Breeding Centre (NCBC) is Ireland's largest cattle breeding organisation, operating Ireland's largest Dairy and Beef breeding programmes, NCBC's shareholders are Progressive Genetics and Munster A.I.
Progressive Genetics and Munster A.I. are the largest providers of AI services in Ireland plus they also account for 98% of all milk recording services.
The Dairy programme is based on fertility and health, with a strong focus on maximising profit from grazed grass, NCBC's programme uses maximum use of modern technologies, from genomic selection to data analysis, which allow NCBC to select the best grassland genetics for farmers in Ireland.
The Beef programme is designed to identify and test the best sires of each breed, for both terminal and maternal traits, which are commercially important to a successful beef enterprise.
To date, both the beef and dairy programmes have been hugely successful, delivering a line-up of proven superior sires, meeting today's market demands in an efficient and profitable manner.
Semen is available from all NCBC sires, exclusively in Ireland through Progressive Genetics and Munster A.I.
NCBC semen is also available through our international agents here (International Agents).