Pregnancy Diagnosis from Milk Samples
1. Simple: uses milk recording or other milk sample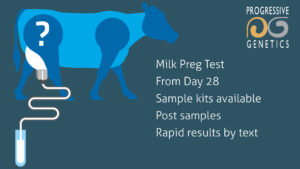 2. Easy: No extra work
3. Effective: Comparable accuracy to scanning
4. Complements scanning and fits into a managed fertility programme.
5. Use from 28 days post breeding
€4.00 per sample
More details click here
Progressive Genetics carries out all our Disease testing at our own testing Laboratory, Independent Milk Laboratories (IML). IML is an ISO17025 accredited laboratory and is an AHI designated laboratory for Johnes, BVD and IBR testing. IML can carry out a range of tests on your milk recording samples if required. Additionally, IML also offers a Bulk milk screening service, IML Healthcheck available through your co-op or in a postal kit. For pedigree breeders they also have a CHeCS approved health scheme, IML Healthplus+ available to accredit you herd's disease status.
For more information on the services, costs or to order sampling kits please contact IML:
By Phone: 042-9675353
Email: enquiries@imlabs.ie
www.imlabs.ie
Establish Herd Johnes disease status
Manage Johnes disease if present
Increase herd value if disease free
Access to Animal Health Ireland programme
Operating under Animal Health Ireland Programme rules
Uses milk samples: Easy, Effective, Value
Why worry about Johnes Disease?
Reduced performance of infected animals
Lost output
Spread of disease can go undetected
Possible barrier to trade
Benefits of tackling Johnes Disease
Clean cattle for your herd in the future
Can be tackled before problem becomes too serious
Increase sale value of your herd
Animal Health Ireland Programme & PG Johnes Check
Johnes Check fully complies with AHI national johnes scheme
Annual test scheduled as part of routine milk recording
Results on ICBF database feed into AHI
Full details & sign-up forms. Click here to visit the portal.