G1 Dairy Sires February 2021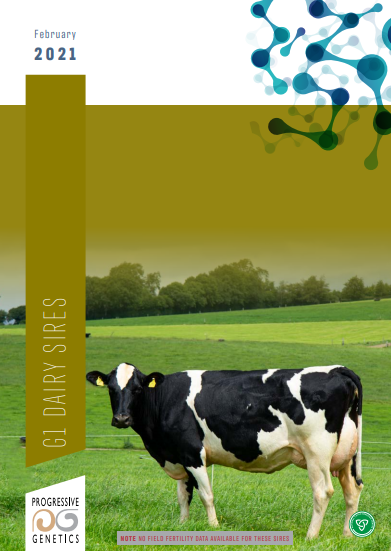 We in Progressive Genetics are delighted to introduce you to our special catalogue of G1 sires for the Spring 2021 season. Over the past 12 months Progressive Genetics in association with our partners in the National Cattle Breeding Centre (NCBC) have selected over 100 high ranking genomically selected young bulls.
These bulls are at the very early stage of their production cycle but a limited number of doses will be available this season. The Dairy breeding programme at NCBC is making an enormous contribution to cattle breeding in Ireland being the corner stone in powering the EBI since its embroyonic beginnings in 2000 and over the last 10 years (2010 to 2019) the national herd has demonstrated a significant improvement in performance.
The gains that farmers are achieving are reflected in the milk cheque with gains in fat and protein of 60kg over the past 10 years alone. The GI sires in this catalogue come from a broad range of families and sires and are reflective of our program policy to promote as broad a genetic diversity as possible.
Just a note of caution these G1 bulls are only starting to be used in the field so we do not have any field fertility data, field calving ability data or genetic defect data available at this time so they come with that health warning. Although these bulls represent the future and they have been selected using the best data available but this may change therefore you should always use a team of bulls in your herd.
We hope you find some sires of interest in the catalogue and we look forward to a successful AI season in 2021.
So please check-out our G1 Dairy Sires Catalogue here.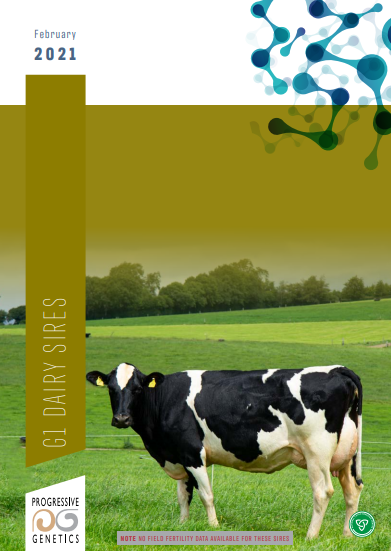 Check out all our latest type catalogues across a range of categories; Red Breeds, Type, Crossbreds and more here!
Progressive Genetics 100% Irish Farmer Owned.